What is a Roof shade garden?
Roof shade gardens are man-made green spaces on the topmost levels of industrial, commercial, and residential structures. They may be designed to grow plants, produce vegetable/fruits, provide play space, give shade and shelter, or simply be there as a living, green area.
Benefits Roof shade garden
Planting the Roof shades of urbanized areas brings many benefits to public, private, economic and social sectors, as well as to the local and global environments. While all green roofs have similar functions, each installation is unique, so technical performance will vary by region, climate, building and green roof type and design. The benefits described below –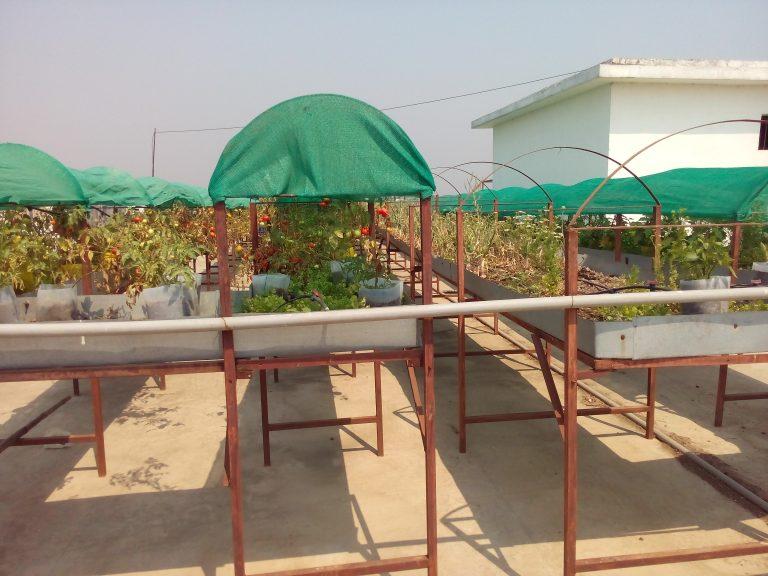 Benefit: R Roofshade gardening is Energy efficient
Reduce the heat flux through the roof, and less energy for cooling or heating can lead to significant cost savings. Shading the outer surface of the building envelope has been shown to be more effective than internal insulation.
In summer, the green roof protects the building from direct solar heat.
In winter, the green roof minimizes heat loss through added insulation on the roof.
Energy conservation translates into fewer greenhouse gas emissions.
Benefit: Roof shade garden improve air quality
Plant leaves trap dust particles from the air, and evapotranspiration cools ambient temperatures.
Less ground level ozone + less heat = less smog.
Reduced Urban Heat Island profile.
Less need for health care services result in societal cost savings.
Temperatures in the urban core can be warmer than rural and suburban areas.
Benefit: Roof shade garden provide extra space
Planned Roof shade garden make the most of unused space within the increasing density of our cities. Roofshades can be developed into social and recreational spaces and used for urban agriculture.
Amenity space for day care, meetings, and recreation.
Improved aesthetic views for neighbors' in adjacent buildings.
Improved worker productivity and creativity.
Potential to enhance urban food security through Roof shade gardening and food production.
Hospital patients with natural views require less medication and attention and may be discharged sooner.
Opportunities to recycle aggregate and compost.
Our Roof shade Organic Farming model will become more and more popular in times to come because of the following reasons:
Grow and Eat Organic Vegetables and fruits Right from your Roof shade
Grow Fresh organic Vegetables with very little water
Easy way to stay away from Pesticides
Reduce electricity consumption, by developing a natural green cover on your roof
Our Agro experts will teach you to do Organic Farming on your Roof
Physical & Chemical status of soil
New ideas that could be extremely beneficial but not being used, Cost-savings that are possible by implementing new ideas.
Each house would not only become self-sustainable in producing its own healthy food, it could also generate CARBON CREDITS as it is a highly water-efficient and very low-energy farming system that we have created.
By growing Fresh vegetables on the Roof shade, we cover the un-utilized Roof shades with a natural green cover which will significantly bring down the temperature of the building thus reducing the power consumption of the building.